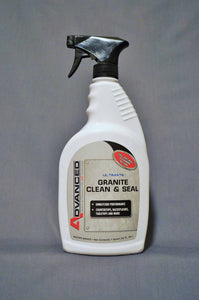 ADVANCED Sealers and Cleaners
Ultimate Granite Clean & Seal
Ultimate Granite Clean & Seal- New AC Technology allows for this unmatched performance of granite cleaner and sealer in-1!

Its penetrating "All Natural" cleaning action is blended with the best performing granite sealer that quickly cleans and re-seals with every use. Removes grease, oil, dirt, fingerprints, smudges & streaks.
"All Natural" cleaning action ~ Safe for use on food prep areas
Easy Spray & Wipe Formula
Citrus Scent ǀ Non Acidic
Gallon Sizes Available. Please contact us at 
(480) 499-3145 for pricing.