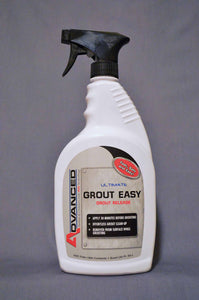 ADVANCED Sealers and Cleaners
Ultimate Grout Easy
Ultimate Grout Easy- This new AC Technology is a VOC Free formula designed to prevent grout from staining when applied prior to grouting and also makes for an effortless grout clean-up.

Ready for grouting in as little as 30 minutes after applying and comes off while you grout, unlike other brands that need to be washed off with acids.

Designed for: Natural stone, porcelain and ceramic tiles.
Comes off tiles during the grouting process – No acid washing required!
Material Safety Data Sheet (MSDS)
Easy Spray or Wipe-On Formula ǀ No VOC's
Protects Tile and Stone during Grouting