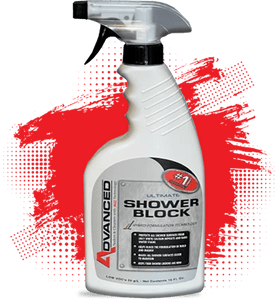 ADVANCED Sealers and Cleaners
ULTIMATE SHOWER BLOCK
ULTIMATE SHOWER BLOCK

A shower protectant that is formulated to "Block" & "Reduce" hard water & calcium build-up from all of your bathroom surfaces: porcelain & ceramic tiles, sinks, faucets, glass shower doors, grout, & natural stone. Makes any surface much easier to clean and will not allow any damage caused from calcium etching on your surfaces.
Why Choose ULTIMATE SHOWER BLOCK
If you shower regularly, you know how important it is to keep your shower clean. But what about protecting your shower from dirt and grime? A shower protectant can help keep your shower clean and prevent buildup of soap scum and other deposits.

Shower protectants are available in a variety of formulations, so you can choose the one that best suits your needs. Some shower protectants are designed to be used on a specific type of shower surface, such as tile or glass. Others can be used on all types of shower surfaces.

Looking for a great shower cleaner that won't break the bank? Check out our selection of affordable shower cleaners that will get the job done right. Whether you're looking for a heavy-duty cleaner for tough stains or a gentle cleanser for everyday use, we've got you covered. Plus, our prices are unbeatable, so you can save even more. Shower protectants can help keep your shower clean and fresh, and they can also save you time and effort in cleaning your shower. Choose a shower protectant that is right for you, and enjoy a clean shower for years to come!
The only care products specifically designed for the daily wear your shower takes, which is more severe than any other surface in your home.
Protects Tile, Natural Stone, Glass, Grout, Metal & more.
Excellent Soap Scum, Body Oils and Water Resistance.
Formulated to Withstand the Everyday Use of Your Shower.
Can Be Applied Immediately After Grouting.
Makes All Shower Surfaces Easier to Maintain.
Keeps Your Shower Looking Like New.