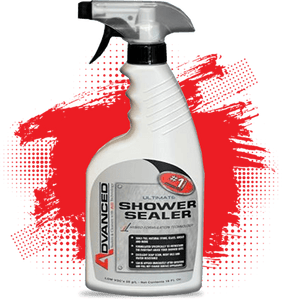 ADVANCED Sealers and Cleaners
ULTIMATE SHOWER SEALER
ULTIMATE SHOWER SEALER

An impregnating natural look sealer for your showers natural stone & grout. Can be applied immediately after installation. Leaves stone with a no-sheen, natural look finish and is formulated specifically to withstand the everyday abuse a shower gets with constant water exposer, soap scum & body oils.
Why Choose ULTIMATE SHOWER SEALER
If you've ever had a shower that leaks, you know how important it is to have a good shower sealer. A shower sealer helps prevent water from leaking out of your shower and causing damage to your bathroom. Sealers also help keep your shower clean by preventing dirt and grime from getting into the cracks and crevices of your shower.

No matter what type of shower sealer you choose, it's important to follow the instructions carefully and apply the sealer evenly to avoid any problems. Once you've applied the shower sealer, you should wait at least 24 hours before using your shower to allow the sealer to dry completely.

A shower sealer is an important part of keeping your shower in good condition and preventing leaks. Choose the right shower sealer for your shower and follow the instructions carefully to ensure a long-lasting, watertight seal.
The only care products specifically designed for the daily wear your shower takes, which is more severe than any other surface in your home.
Protects Tile, Natural Stone, Glass, Grout, Metal & more.
Excellent Soap Scum, Body Oils and Water Resistance.
Formulated to Withstand the Everyday Use of Your Shower.
Can Be Applied Immediately After Grouting.
Makes All Shower Surfaces Easier to Maintain.
Keeps Your Shower Looking Like New.